Mixed hardwood forests leading to and joining Flat Creek
Location
Buncombe County, NC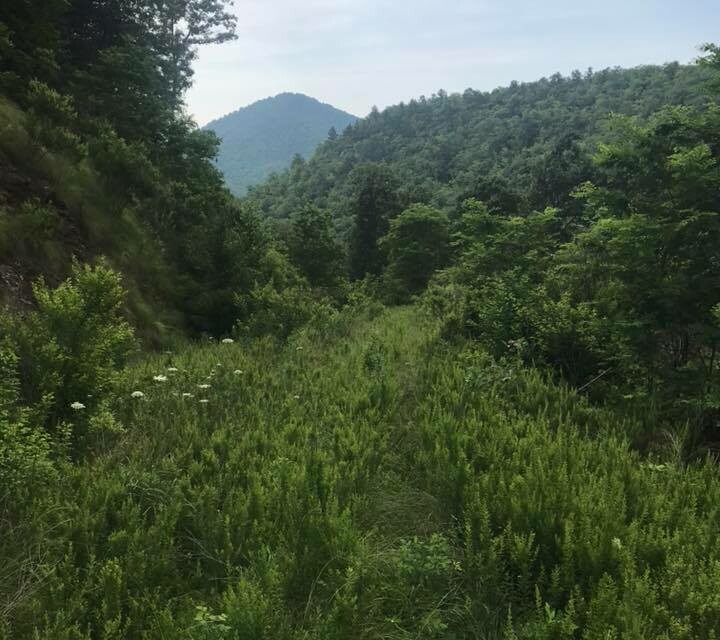 Typical Appalachian Hardwood Forest
The property exists as one naturally wooded in central Buncombe County, NC.  The Property is in the Upper Broad River Watershed along tributaries of Flat Creek.
This tract consists of typical Appalachian hardwood forest and is generally bounded by small landowners and rural woodland/farmland tracts. The southern boundary is along Echota Rd and the northern boundary is along the High Top Mountain Ridgeline and the Tennessee Valley Divide. The tract would originally have consisted of a mix of montane hardwood and hardwood pine on the ridges trending into a white oak forest along the stream drains. The most distinctive features of the property are the mixed hardwood forests leading to and joining Flat Creek. The property is approximately 90% hardwood forest, 6% hardwood/pine forest, and 4% electric and road ROW.
This property has most recently been devoted to mixed timber production and was being held for possible development. During historical times, small-scale timber and livestock production occurred. Currently, the property is used for outdoor recreation, natural landscape protection, and timber production. No recent evidence of timber harvest was noted, though some harvesting has occurred in the past 30 years.
---
Map & Directions