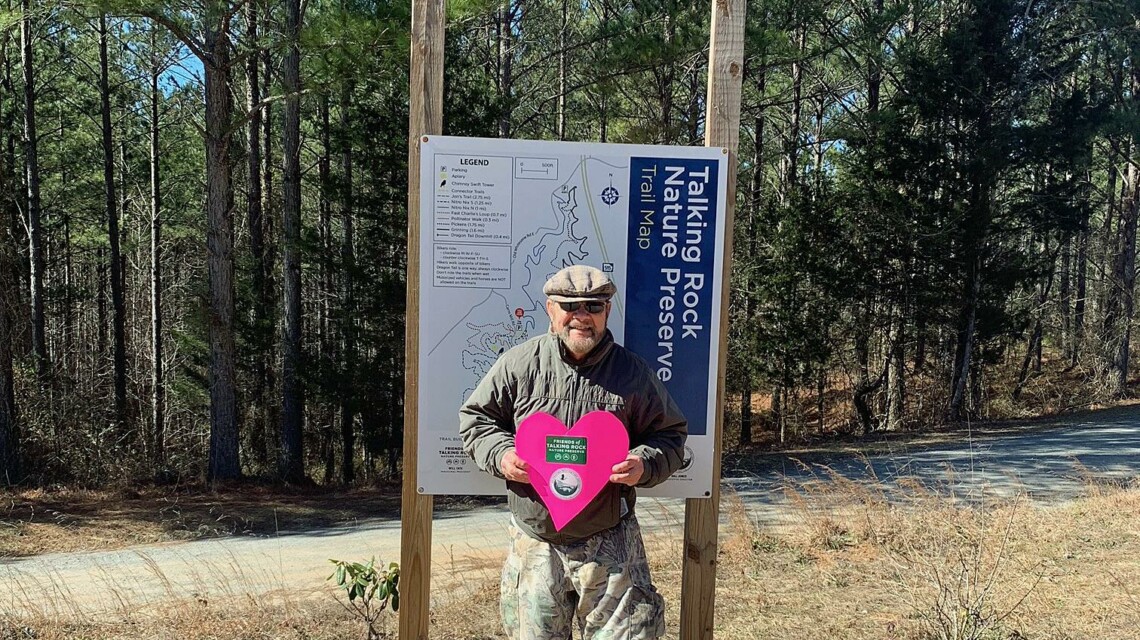 Meet Evelyn and Tim
We're feeling the love as we countdown to Valentine's Day. What a perfect week to introduce you to a couple of STPAL sweethearts and share their fun love story with you.
Meet Evelyn and Tim. Their love story began more than 40 years ago in Ohio. In that four decades, they married, raised a family, and retired to Pickens County. They love each other.  And…they love the outdoors. They enjoy hiking, camping, and exploring natural lands. Tim is a mountain biker, cave diver, and officially serves as the unofficial trail boss at Talking Rock Nature Preserve. He cuts the grass in the common areas. He clears trees that fall across trails after a storm. In the summer, Tim relentlessly battles the blackberry bushes. He clears the pine straw from the trails when it gets too slick. He installed the bike repair station. He helped frame the new pavilion.
While "in real life," Tim is retired, we assure you he's still working hard for Talking Rock Nature Preserve with no paycheck for this job! He does this because he loves Talking Rock and the community it serves. So, when Evelyn was scratching her head a few months ago for the perfect Christmas gift, she thought of TRNP. She reached out to our Executive Director and together they schemed up a perfect gift to honor her love for Tim, and Tim's love for the park. Evelyn made a gift to buy the supplies … and Voila! If you enjoy mountain biking at TRNP, you'll notice a pretty cool new feature – a wood banked turn (berm) across a section of the trail. It's a super fun to ride and we know you'll enjoy it! It was the perfect project to honor Tim and his dedication to this park. Y'all – this isn't your typical Hallmark-motivated Valentine's – this is love in action. Evelyn and Tim – thank you. For your creativity, generosity, and hard work.
Have any of our parks been part of your love story? Send us a message. We're featuring love stories all year!